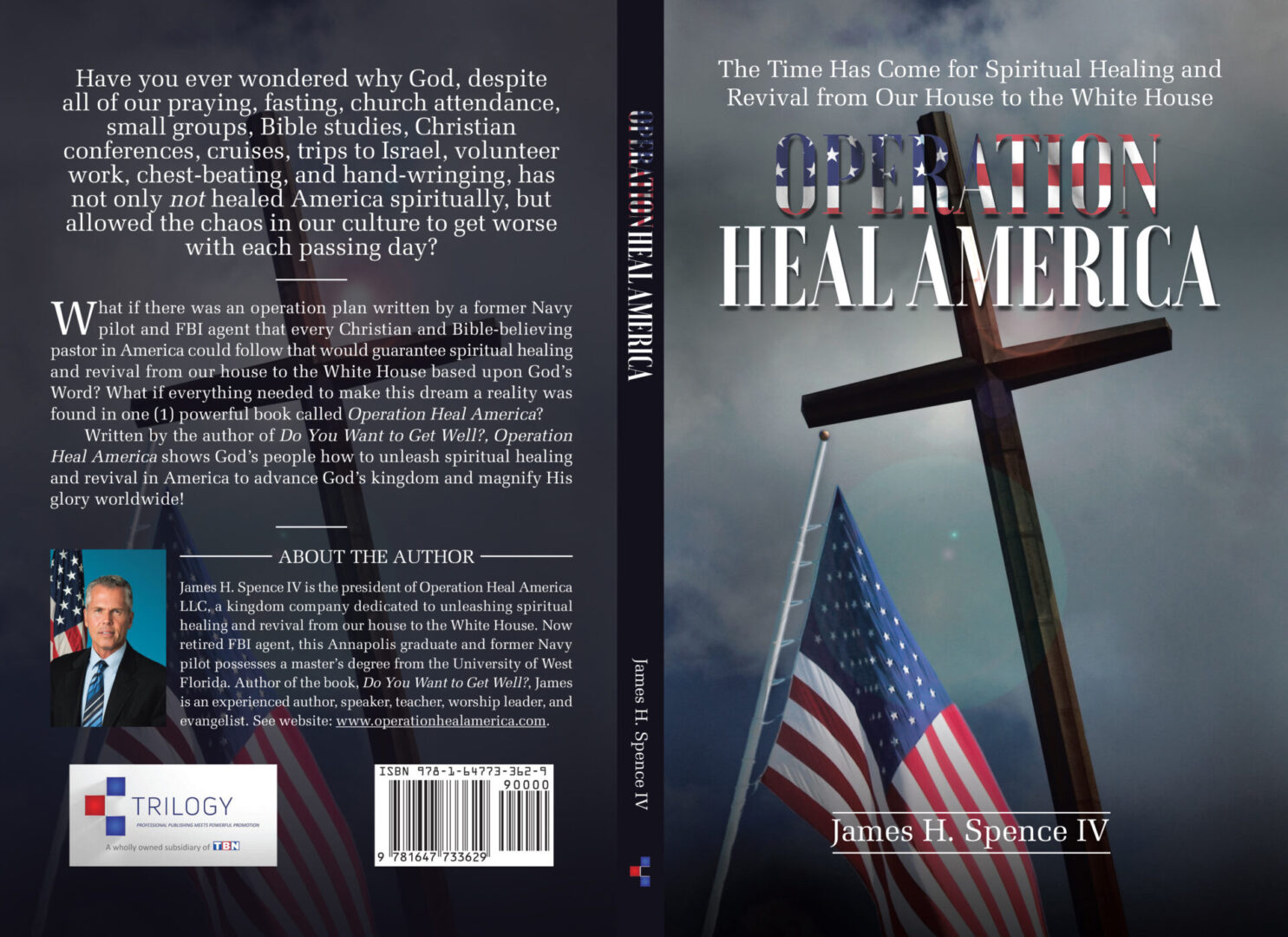 Reviews for

Operation

Heal America
Gloria H
I have gifted this book to so many (155 last count) as it calls us back to divine order. With over 1600 Bible verses, James brings modern-day relevance to man's place and purpose in Creation. I would love to see Operation Heal America as a text book, a marriage license requirement, a five-fold ministry tool, and visibly present in every home, business, and government entity, calling order to the chaos of a nation that has drifted far from God and His plan for mankind! I appreciate the vision God gave James Spence and hope that the national plan, centered on 2 CHRONICLES 7:14, brings desperately needed healing and restoration to our families, churches, government, and culture! A true message of hope to God's people that if we will . . . God will. As you read it, you will undoubtedly experience the great mercy that led to the vision, genesis, and evolution of this book!
Pastor Bristol Smith
This book, Operation Heal America, is absolutely amazing! James exposes the corruption in our Nation and tells us how to revive our Nation by using the word of God!
If you're a Christian who has a desire to learn Gods truth, you have to follow Operation Heal America on Twitter and also buy this book!
KY
Absolutely love the Mission that you are on and how you are putting the truth out to the public. God's plans will prevail over all of the evils here on earth and everywhere. God Bless You. 
CLC New York
I am forever grateful to author James Spence!! Once you open this book and start reading, you don't want to put it down! The knowledge he has followed with Bible scripture is such an eye opener of where we have gone wrong in our home, the streets, the churches, etc... Gods chosen one, Brother James, gives us HOPE during these challenging times we are in TODAY! I am looking forward to taking part in Operation Heal America. I found this book to be a GREAT Christmas gift for my 3 grown children. If there not yet ready to open it, one day pray fully soon they will be. I call myself, "Truly Blessed" to have James Spence book and to me it should be on the #1 Best Seller List. I pray it reaches the hands of every home! Brother James Spence, You're amazing! 
Wow wow! This book is so real and deep! I feel good reading it. 
Operation Heal America was a refreshing and inspiring read! From chapter 1 that opened my eyes for the first time in my 50 years following Christ, the manner in which we are sanctified from the inside out. It also includes many currently maligned, but completely accurate of the structure God intended for families and society as a whole. He's also a great follow on Twitter. Highly recommended. Bless you, James! 
Global Prayer Messenger
I am so very thankful to God for His Purpose through His Servant Who is the author of this book...to reveal the true purpose of God for all mankind and through His Anointed Chosen Ones... I feel great too when I think God's kingdom comes down upon His children... What blessed words in this book!
Simply WOW!! Great read with timely truths. You can't help move from page to page without realizing that James was given a great responsibility in putting this book out. You can't help but know that he was definitely given a great responsibility which, he accepted. I would recommend this to anyone who is questioning why our homes, our communities, this great nation is in the trouble it is today. Thank you James for answering the call to write this book.
I'm so grateful for this book. I couldn't stop reading it and I have reread it many times, often out loud to my family. I pray that this book will get in the hands of everyone in America. We struggle and suffer but not without hope. Thank you for your wisdom and passion to share the gospel. 
Wow - What a timely and insightful book! It opens your culture-weary eyes and floods them with the light of Truth. James expertly answers some of life's biggest questions: Why are we here? What are we supposed to do? What lies of the enemy are we believing/being controlled by? How can we fulfill the conditions necessary to bring spiritual healing & revival to our nation? He covers it all with some humor sprinkled in, Thank God! It's easy to see why the Lord chose him to give us our Operation Orders (Navy, FBI man), but from my perspective Operation Heal America is a piece of heartwork! Thank you!!
SA
Operation: A military operation is the coordinated military actions of a state, or a non-state actor, in response to a developing situation. These actions are designed as a military plan to resolve the situation in the state or actor's favor. Therefore A Spiritual operation is the coordinated actions of a believer united with the body of Christ, in response to a developing situation in the world. Operation Heal America, is a Spiritual Operation, to spread the Gospel, and fulfill The Great Commission. I enjoyed reading about Soul Patrol and how a group of young boys would receive Salvation in Jesus Christ later that night. How one boy would have his life changed by the Spiritual backup from our beloved friend, brother, and author of Operation Heal America. Overall great read if your interested in a step by step plan to free the prisoners of spiritual warfare, heal the sick, freeing many from the 2nd death, which is eternal life in hell. Giving in its place, life in Christ Jesus, and through Christ life abundant! To eternal life with him in his heavenly abode.
This is one of those books you can't put down! This is the groundwork for revival not only among churches but inside every believer! We must ALL turn back to our only hope which is in Jesus Christ. James eloquently speaks so all understand God's amazing Grace and unconditional love for each one of us. I don't know of a better gift so plan to purchase some for Christmas. ♡♡
Amazing! Wow! Unbelievable! Exactly what we need, to come together as One Church and pray. Every Man, Women, Pastor and believer should read this book. I cried at times and I celebrated at times but I couldn't stop reading it until I was finished. I am amazed at what the Holy Spirit has shared with James. Can you imagine if thousands of like-minded people come together in prayer what we could accomplish as a nation? Think about that for a moment. See you've got to buy this book!
Received my 3rd copy today. Giving them to family & friends. On a mission & nothing can stop it! Ordering more. Every blessed recipient also getting a new study Bible along with this awesome book. I may have wasted many years & been led astray, but I am awake now & battle ready!
I truly enjoy reading when I don't have to know who the author is. I say that because the Holy Spirit of God is the person that is actually speaking and, not the author. This book creates that atmosphere. I'll have to say, if I'm honest that each chapter, at one point or another, drew conviction on my heart. It truly showed me areas in my walk with Christ that I needed to improve on. The Bible says in ( 2 Corinthians 3:2 ) that "Ye are our our epistle written in our hearts, known and read of all men:" I'm sure that the author didn't consider that when writing this but, when the power of God can be felt from a voice, or, from words then that's a great testament to Jesus Christ our Lord. A book such as this: ( Operation Heal America ) has transforming powers. We often hear today the phrase ( Make America Great Again ). That can be accomplished but it must begin in the spiritual realm of our heart, homes, Churches and yes, even our government. If any pastor or Church member can read this book and not feel conviction then; email me, I'd like to hear your story. I'd also like to compare this book to another verses of Scripture, Philemon 1:6. That the communication of thy faith may become effectual by the acknowledging of every good thing which is in you in Christ Jesus. This book does just this. Putting this book in my hands was a first step. If it was the purpose of the author to draw attention to spiritual needs in pastors and, those that say they believe, he accomplished his goal. While placing this book in the proper hands might be a challenge, The greater challenge will be conforming to the leadership of the Spirit of God that overflows as any person reads this book. This book is very spiritually awakening to a very complacent Christian family of believers across this country. The book is a masterpiece to the Glory of God. It's completely up to you whether you desire to be made perfect in Christ and be a part of the Spiritual Healing of our Nation. We have the weapons of victory at our disposal. This book is one of those weapons!
Add Your Review
BOOK REVIEWS/TESTIMONIALS